1. Working with partners in an emergency
CARE believes that it is only through the collective efforts of many actors that overcoming poverty and injustice, and saving lives during emergencies, can be achieved. CARE has long promoted working with local institutions in development settings, to support local capacity, ownership and sustainability. Similarly, CARE increasingly works with partners when responding to emergencies, recognizing that this not only saves lives and achieves greater reach and scale, but also leads to sustainability.

'Within this global context, strategic alliances, partnership and niche expertise will be necessary for an NGO such as CARE to be able to demonstrate relevance, value and impact in our humanitarian work.'
'Stronger and more interested local partners pose tremendous opportunities for agencies such as CARE to support and invest in building capacities and to build upon the contextual relevance and acceptance in communities and regions that external actors have more challenges reaching. '
CARE's Humanitarian and Emergency Strategy describes partnerships as critical to fulfilling its humanitarian mandate. The strategy recognizes that CARE is part of a larger humanitarian ecosystem requiring collaboration and partnering among a diverse set of actors to deliver effective and timely responses at scale.
The Strategy refers to partnering in a range of contexts, including – but not limited to – where CARE's presence may be reduced as part of the organisation's ongoing transition to lighter operational models or due to lack of access.
Following the 2016 World Humanitarian Summit, CARE signed on to a set of reforms in the humanitarian system through the Charter4Change (https://charter4change.org/commitments/)and the Grand Bargain  http://reliefweb.int/sites/reliefweb.int/files/resources/Grand_Bargain_final_22_May_FINAL-2.pdf). The call for 'localizing aid' is central to the proposed reforms: making aid 'as local as possible, as international as necessary.' This involves giving more space, power and control to local actors (including government and civil society) as critical first responders in emergencies.
CARE has committed to changing the way it operates to enable more locally-led responses. This includes reinforcing – not replacing – existing local and national capacities in response. It also compels the agency to move away from subgranting towards more equitable, power-sharing partnerships. It also involves shifts in resource transfers with CARE committing to channel at least 20% of its humanitarian funding directly to southern-based NGOs by May 2018. This does not mean that CARE will no longer implement a direct emergency response; however it compels the organization to more systematically explore the option of jointly responding with partners and building their capacities as frontline responders. These new directions will require sustained investment in building and maintaining partnerships during non-crisis times (as part of preparedness) to enable partnered response at scale.
CARE also signed on to the Principles of Partnership (https://www.icvanetwork.org/system/files/versions/Principles%20of%20Parnership%20English.pdf) in 2007 which call for effective and equitable partnerships based on: equality, transparency. A results-oriented approach, responsibility and complementarity. This means that partnerships should not be one-way (e.g. led by CARE's agenda) but rather a two-way relationships where benefits and risks are equally shared and partners' contributions sought and valued.

a relationship that is mutually beneficial to the parties seeking to collaborate. . The purpose is to co-create solutions together that add greater value than any one organization could deliver on its own (e.g. greater access to affected areas, more timely response, reaching a greater number of affected people, delivering a context-appropriate response, multiplying impact). The most effective partnerships are based on shared vision, values, objectives, risk, benefit, control, and learning as well as joint contribution of resources.
There are different types of collaboration; some are more appropriate than others depending on the context and the purpose of the partnered response.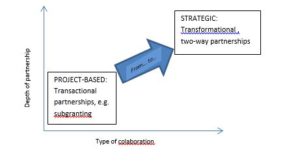 These guidelines focus on the different types of collaboration outlined above, from contract-based to more equitable partnerships. Contract-based relationships are often referred to as 'sub-contracting' or 'subgranting' and consist of contracting out local agencies to implement relief activities as part of a time-bound project. ). While this has been the default 'partnering' model for CARE in many contexts, the organization is intent on shifting the balance away from subgranting towards more equal partnerships.  These guidelines are helpful for all types of partnerships described above,
In particular, these guidelines offer inputs on whether, why and how to develop and manage partnerships with local actors in  emergency response. They should be read by all staff working in emergency programmes. Although targeted at programme staff – who must be aware of a wide range of programmatic, operational and financial issues – they are also very relevant to support staff. Refer to section 9 for a list of additional partnership resources.
Partnership is everyone's business; as such there may not be a single staff member dedicated solely to partnership coordination. This also means that the 'partnership' function can sometimes fall through the cracks. Establishing and maintaining productive partnerships requires the input of many, at both strategic and operational levels.
1.4.1. Roles and Responsibilities for partnerships (outside of emergencies)
Position
Key responsibilities
National or field-based partnership focal point
Main focal point for liaison with partners on all routine programme and operational matters. Should be appointed for each project/ project partner (often, this is the  programme manager)

Programme coordination team (ACD programme, programme coordinators)

Selection of partners, establishment of partnership (incl. joint programme design and planning, negotiation, contracting), nurturing and monitoring the partnership, oversight of implementation of joint programme, joint learning

Finance and support staff

Assist with operational aspects of partner selection, contracting, financial management and compliance, logistics, procurement and audit

Safety and Security staff

Country Director and senior management team

Involved in risk analysis and support partner security management

Oversight of CO partnership policy and procedures, strategic identification of partners and nurturing relationships, high representation and if needed, dispute resolution.

CI Humanitarian Partnership Coordinator
Provision of remote support on partnering in emergencies, CARE-wide lead on 'localizing aid', CARE-wide monitoring and reporting against Charter for Change commitments and  respect of Partnership Principles; coordination of CARE-wide learning on joint/partnered responses.
1.4.2 Partnership management functions in an emergency response team
Managing partnerships  involves a number of CO staff including:
Country Director
ACD and programme coordinators
Partnership focal points (if they exist)
Project and field staff
Finance, procurement and audit staff
Safety & Security managers
While many staff members may be involved, it is critically important that clear roles and responsibilities be defined for establishing and managing the partnership, for communicating with the partner agency, for authorising decisions and for resolving disputes. A good model involves appointing a single, appropriately senior field-based staff member as the focal point for all dealings with the partner, backed up by a senior management team for higher-level issues, such as building the strategic nature of partnerships and resolving issues that have escalated.
. However, in partnered or joint emergency responses, it is very valuable (if not essential) to have a senior staff member dedicated to partner liaison. A sample job description for a Partnerships Coordinator is available at Annex 12.1.